_

Services

>

Payroll Management Software
Payroll Management Software
HRMS payroll software is a comprehensive employee payroll management system that simplifies the task of managing employee salaries, benefits, and tax deductions. With attendance and payroll software, businesses can streamline their payroll processes, reduce errors and costs, and improve accuracy and compliance. The benefits of using payroll management software and how it can help businesses manage their payroll processes efficiently.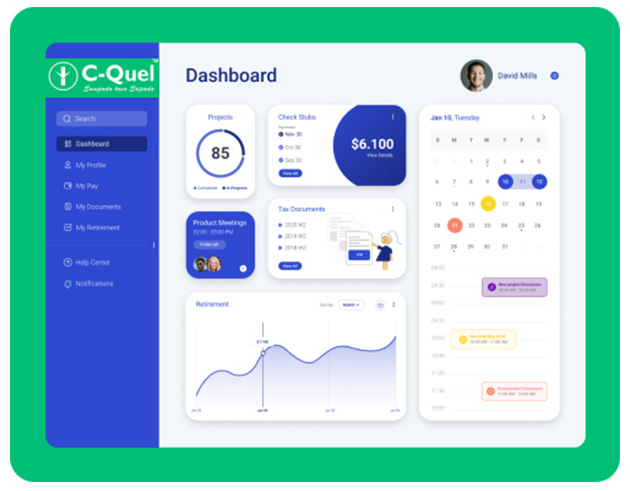 First and foremost, payroll management software automates time-consuming and error-prone manual payroll processes. It eliminates the need for manual calculations, data entry, and record keeping, freeing up valuable time for HR professionals to focus on more strategic tasks. With automated payroll processing, businesses can ensure that their employees are paid accurately and on time, which can boost employee satisfaction and reduce turnover rates.
Another benefit of using payroll management software is its ability to integrate with attendance tracking systems. Attendance and payroll software work in tandem, ensuring that employees are accurately compensated for their hours worked. With attendance data seamlessly integrated into the payroll system, HR professionals can easily calculate employee salaries, overtime pay, and deductions. This can significantly reduce the risk of errors and inconsistencies in payroll calculations.
Payroll management software also offers advanced reporting capabilities, allowing businesses to generate reports on payroll expenses, tax withholdings, and employee deductions. These reports can help businesses gain valuable insights into their payroll processes and identify areas for improvement. With real-time access to payroll data, businesses can make informed decisions about employee compensation and benefits, as well as monitor compliance with local and national labour laws.
C-Quel's Payroll is designed to make the work environment better. Get salary generation at its fastest with our Payroll Management Software. We offer a software solution that makes it simple to calculate various taxes, generate paycheck reports, and trace employee payments.
Experience a stress-free payroll solution with our:

Integration with employee calendars

Organisation of employees by pay grade

Employee self-service portal

Human resources (HR) form storage

System notifications or alerts